---
Altona Garden Retreat
68 Grandview Drive, South Spreyton
Altona Garden Retreat is a modern self contained two bedroom unit. A queen size bed, a double and single bunk gives the capacity to sleep five. Spacious living and kitchen area, bathroom with a walk in shower. Altona Garden Retreat is 10 minutes from the Spirit of Tasmania berth at Devonport and 15 minutes from the airport.
Phone: Colin: 0488 511 275; or Fay: 0419 132 218
Website: https://altonagardenretreat.com.au
---
Asimatree Bed & Breakfast and Art Garden
49 Bucks Road, Tarleton
Bed and breakfast accommodation, a unique and luxurious home stay, with each room opening to the gardens. A complimentary full breakfast offered.
Phone: 0418 517 577

---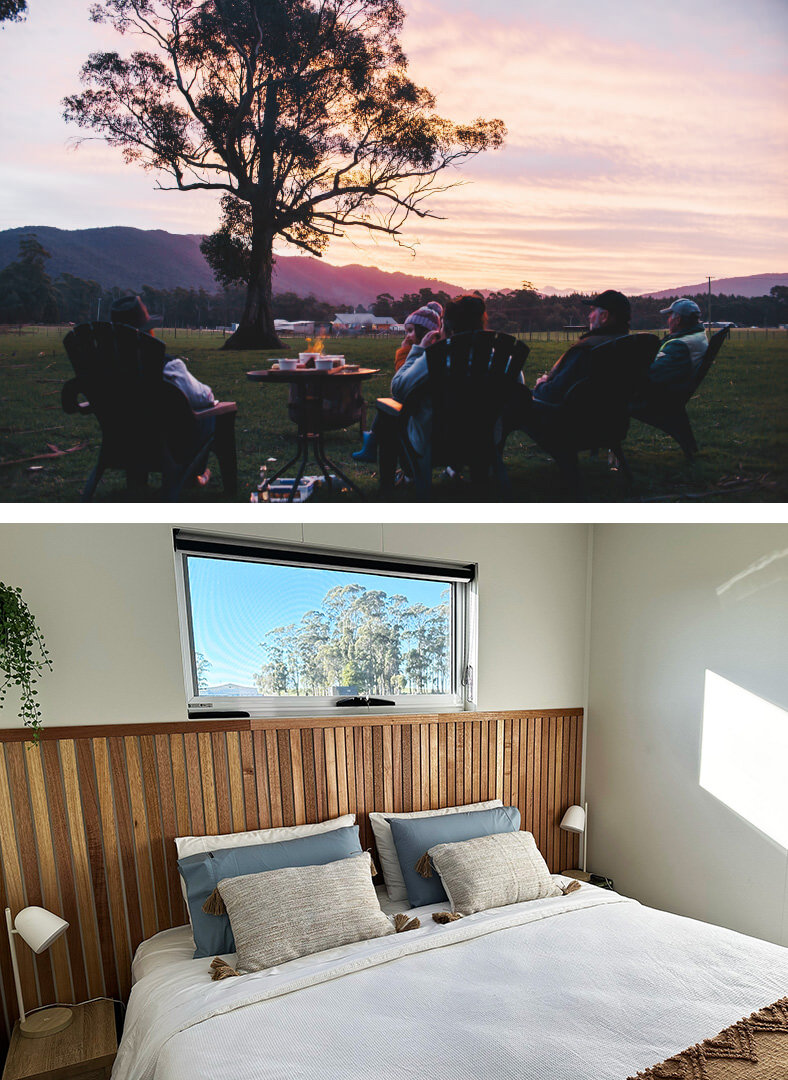 Badger's View Farmstay
290 New Bed Road, Railton
Badger's View Farmstay Cottage is a one bedroom accommodation situated in a beautiful garden. The cottage accommodates a king-sized bed (two single beds are also available), the bathroom has a shower over a bath and separate toilet. Kitchen facilities include a small fridge, kettle, toaster, electric frying pan, single stove pot cooker and espresso coffee machine. Continental breakfast daily, includes eggs, cereals, bread (to toast) and locally sourced seasonal produce – typically fresh fruits and jams.
You will love our communal spaces at Badger's View farmstay. There is plenty to keep you occupied if you just want to relax on the farm. We have an outdoor firepit area and BBQ. There are many seasonal farm activities, meet the animals like our alpaca and sheep, there is an opportunity to feed the lambs when in season. Transfers or extractions from Cottage to the start of the Wild Mersey trails, available upon request.
Phone: 0407 219 279
Website: badgersviewfarmstay.com.au
---
Bells Bed and Breakfast
59 Bucks Road, Tarleton
Bed and breakfast accommodation, a patio with garden views is offered in each unit. A continental breakfast is available daily.
Phone: 0438 101 958
Website: https://belles-bed-breakfast.business.site

---
Country View Stays
84 Coal Hill Road, Latrobe
Modern, luxurious 2- bedroom self-contained boutique apartment in a peaceful country setting – yet just minutes from Latrobe's main street, the Devonport Airport and the Spirit of Tasmania ferry.
Phone: 0467 672 800

---
10 River Road, Latrobe
Situated in Bells Parade at Latrobe, the park provides for the motoring tourists with hostel and cabin accommodation, powered and unpowered sites and a camp kitchen.
Phone: 03 6426 1944
Website: https://latrobemerseycaravan.com.au
Find out more

---
Lucas Hotel
46 Gilbert Street, Latrobe
The Lucas Hotel is conveniently situated at Latrobe, the hub of Tasmania, just 10 minutes from Devonport, ferries and airport. The holiday Isle is renowned for its warm and friendly hospitality and we at the Lucas Hotel look forward to making your stay in Tasmania a most memorable occasion.
Phone: 03 6426 1101
Website: https://lucashotellatrobe.com.au

---
---
Robin Hoods Well Farmstay
8108 Bass Highway, Sassafras
Self-contained farm-stay accommodation. Studios and Cottages, 15 minute drive from Devonport.
Phone: 0433 395 753
Website: https://robinhoodswell.com
---
RV Friendly Latrobe
Latrobe is home to the Latrobe Mersey River Caravan Park situated adjacent to Bells Parade, the Australian Axeman's Hall of Fame and the Mersey River and we encourage all those with Caravans, Motor Homes and tents to spend their time in Latrobe at this great Caravan Park.
If however the Caravan Park is full or your van maybe a bit bigger then normal there is camping space at a Cotton Street which operates on a permit system with restricted hours for overnight camping. Please note there is a fee to stay at this site, with proceeds going to the Latrobe Primary School Association, users must be "Fully Self Contained" (all waste water must be retained within the vehicle and disposed of appropriately), no fires are permitted and dogs must be on a lead at all times. Maximum time allowed at this site is 2 nights within any 14 day period.
Currently Closed.
---